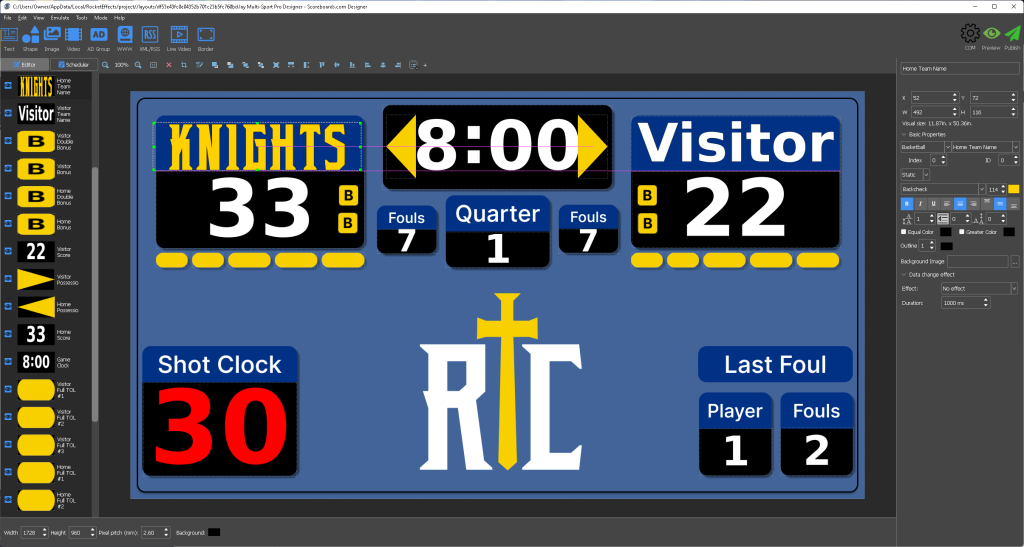 Multi-Sport Pro Designer is a powerful software that allows users to completely customize all elements of the scoreboard for a LED video scoreboard. This includes everything from the layout and design of the scoreboard to the graphics and animations used for displaying scores, game time, and other information.
Here are some of the features of Multi-Sport Pro Designer:
Customizable Layout: Multi-Sport Pro Designer allows users to create a custom layout for the scoreboard, including the placement of scores, logos, and other graphic elements. The software offers a drag-and-drop interface that makes it easy to create and modify the scoreboard layout.
Customizable Graphics: The software provides a library of graphic elements that can be used to create custom graphics and animations for the scoreboard. These include team logos, player names, and numbers, as well as a variety of other graphic elements.
Live Data Integration: Multi-Sport Pro Designer supports live data integration, allowing users to pull real-time data such as game time, scores, and other information from various sources. This ensures that the scoreboard is always up-to-date and accurate.
Multiple Sports Modes: The software provides multiple modes for various sports, including basketball, football, baseball, hockey, and more. Each mode includes a set of customizable graphic elements that are specific to the sport.
Advanced Animation Capabilities: Multi-Sport Pro Designer provides advanced animation capabilities that allow users to create complex animations and effects for the scoreboard. This includes the ability to create animations that respond to live data, such as displaying a message when a team scores.
Overall, Multi-Sport Pro Designer is a powerful software that offers a high degree of customization for LED video scoreboards. With the ability to customize the layout, graphics, and animations, users can create a unique and engaging scoreboard that enhances the game-day experience for players and spectators alike.